Kreyer Chilly MAX 50 - Low temp water chiller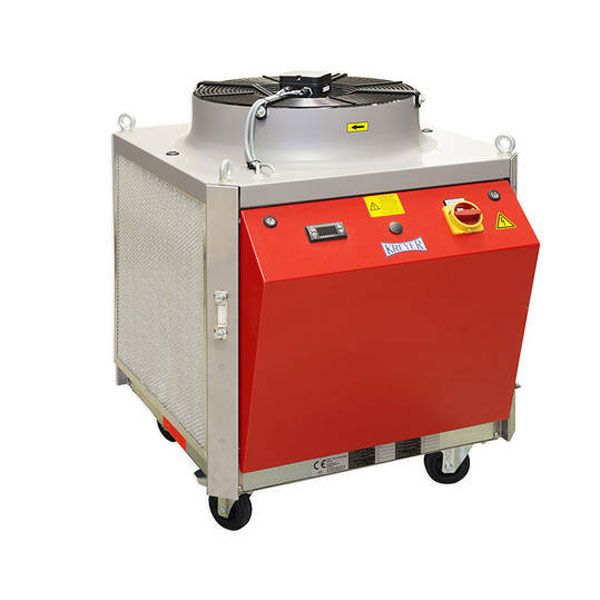 Product information "Kreyer Chilly MAX 50 - Low temp water chiller"
NEW MODEL - with High Efficiency Micro-Channel-Condenser

The compact-build Chilly MAX - units are provided ready to plug-and-run, with a very easy start-up. They take little space and are mobile on wheels. The same as the Chilly shelf-top units, the Chilly MAX units are equipped with completely hermetic motor compressor and a cooling water circuit containing water tank and centrifugal pump. The Chilly MAX is also equipped with a heating-rod, that allows warming of the treated medium. The Chilly MAX is available in sizes and capacities from 6,4 – 12,7 kW.
The start-up-ready cooling unit can be quickly connected to an existing water system for immediate application. The stainless steel casing is specifically suited for use in the damp environment of wine-cellars.
The units from the series Chilly MAX are the optimal solution for small wineries or breweries who wish to heat as well as cool their wine. At attractive prices and minimal installation requirements, the Chilly MAX offer the full application range of a large cooling unit.
Characteristics
Cooling water temperature from approx. -10° to +40°C
Maximal ambient temperature 42°C
Integrated electric heating-rod
High efficiency Micro-Channel-Condenser
Stainless steel water tank
Integrated pump
Pressure switch integrated in the cooling circuit for pump-control
Ventilator on the top part, air-blow direction upwards
Side board are easy to remove, interchangeable between them
Environment friendly cooling gas
Applications
Cooling or heating of must or wine
Biological reduction of acids
Wine stabilization
Regulation of fermentation temperature
Cool storage of wine until bottling
Air cooling of the cellar in combination with additional equipment (thermo-ventilators and accessories)
Technical Details
Available in three models: Chilly MAX 50 / 90 und 110
Cooling capacity: 6,4 – 12,7 kW
Heating capacity: 3,0 kW
Electric connection: 400V/3Ph/50Hz (other options by inquiry)
Connection: ¾" IG
ATTENTION: PLEASE CONTACT CUSTOMER SUPPORT FOR CURRENT DELIVERY TIMES: Email: info@braumarkt.com / Tel: +31 (0)854839888
Large, fragile, heavy, or items that are too large for normal shipping are delivered by pallet or courier service. We will contact you to discuss shipment and shipping rates.