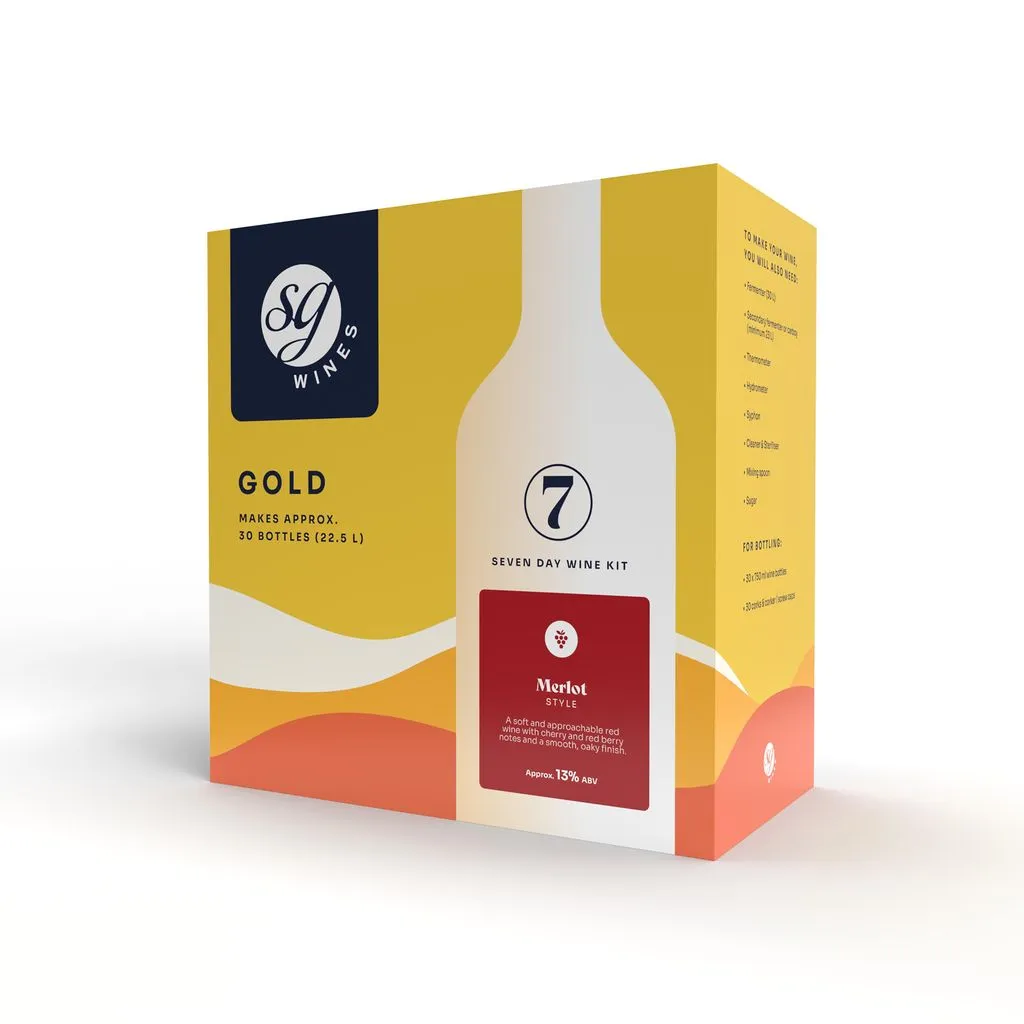 Available, delivery time: 1-3 days
Available
Product information "SG Wines Gold Merlot for 30 bottles"
SG Wines Gold 30 Bottle Merlot Wine Making Kit - Craft a Smooth and Approachable Red Wine
Elevate your winemaking experience with the SG Wines Gold 30 Bottle Merlot Wine Making Kit, designed to help you create a soft and approachable red wine. This Merlot wine is a delightful blend of cherry and red berry notes, complemented by a smooth and oaky finish.
Crafting Your Wine is a Breeze - 6 Easy Steps:
Prepare Your Equipment: Begin by thoroughly cleaning and sanitizing your winemaking equipment to ensure a hygienic and quality process.
Mix the Ingredients: Combine the carefully curated ingredients provided in the kit to start the winemaking process.
Fermentation: Let the mixture ferment for a minimum of 5 days, allowing the flavors to develop and mature.
Clarify Your Wine: Remove any sediment from your wine to achieve the desired clarity and purity.
Bottle Your Creation: Transfer your crafted Shiraz wine into bottles, preparing it for your enjoyment.
Savor and Enjoy: With your bottles ready, it's time to savor the fruits of your labor. Pour a glass and appreciate the exquisite flavors you've created.
Elevate your wine experience with the SG Wines Gold 30 Bottle Wine Making Kit. Craft a wine that's as bold and distinctive as you are, and savor the complexity of flavors that this kit brings to your glass.
In addition to the kit, you will also require:
Secondary Fermenter
Mixing Spoon
Hydrometer
Thermometer
Syphon
Sugar
Corks
*This kit requires the addition of 4 kg of granulated sugar ( sucrose) or 4.4 kg of brewing sugar (dextrose) for fermentation.