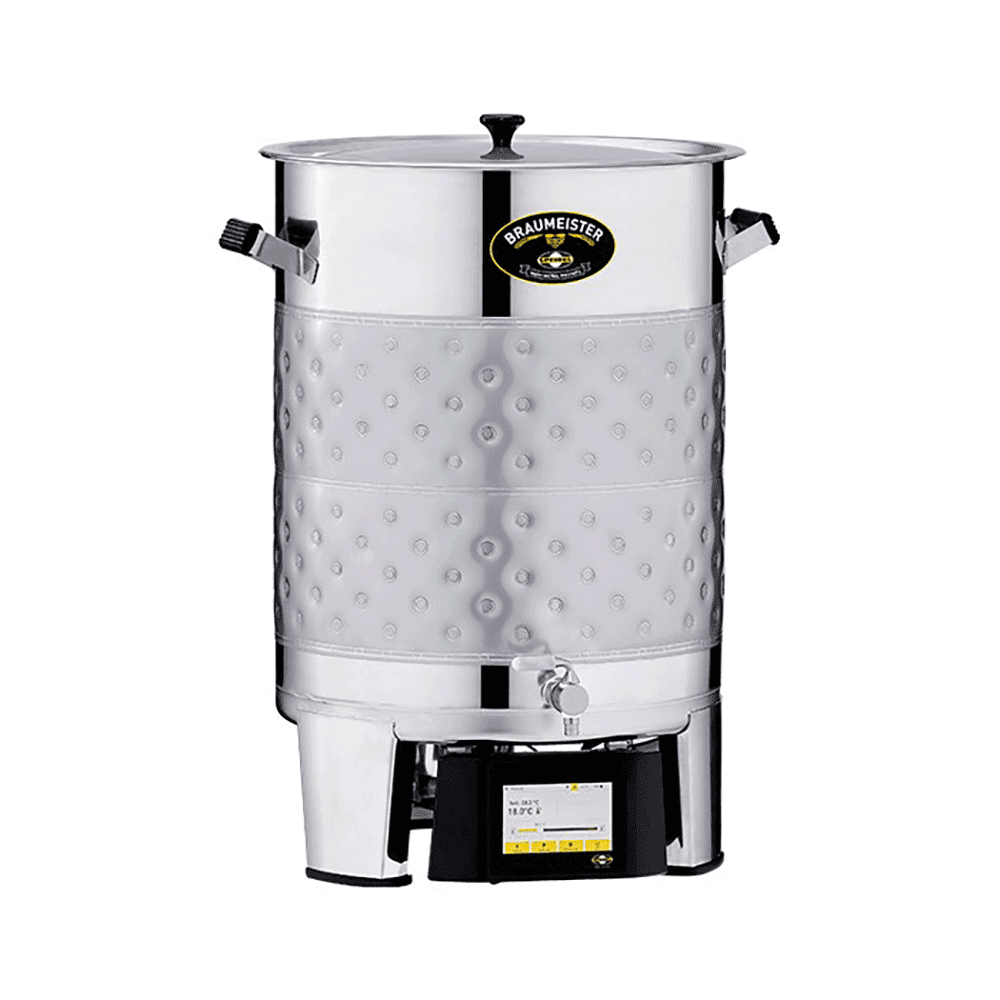 Only 1 available
Available, delivery time 1-3 days
Product information "Speidel Braumeister 50L PLUS"
Now even newer: like the original, but better. That's the #Braumeister PLUS with new brewing control unit and with the known welded-on double jacket for cooling.
The new automatic control system brews with your own individual recipes and guides you through the brewing process. Recipes and software updates can be synced automaticly with the integrated wifi. The time and temperature are precisely maintained through all brewing phases (temp sensor in the center rod in the middle of the malt). In contrast to the cumbersome equipment of some other hobby brewers, the Braumeister does not need to be stirred all the time. Thanks to the patented malt pipe technology, the wort is circulated gently and conveniently. Nothing can burn on and nothing needs to be racked during the brewing phases. This way brewing more complex beers is easier than ever before. The #Braumeister PLUS is available with a capacity of 20 or 50 litres. For emptying the waste water there is an additional outlet tap mounted to the tank bottom, which makes cleaning remarkably easy.
features
New control system with touch screen
integrated brewing guide
Wifi for software updates and sync of recipes
Made of stainless steel
Cooling jacket for easy and hygienic cooling with water
Quantity: 50 l of finished beer (normal beer) = approx. 55 l of wort
Max. malt quantity 13 kg
Additional outlet valve in the bottom
Whether you prefer wheat beer, Maerzen or Altbier: all kinds of beers can be brewed with the Braumeister. You will certainly taste the difference in quality between your own beer and indistinguishable, mass-produced beers. But be careful: Anyone who has ever got the taste, will care no more for commercial brews that all taste the same. After this you won't want to do without natural brewing without pasteurizing, good ingredients and leaving out chemical additives.
Properties "Speidel Braumeister 50L PLUS"
| | |
| --- | --- |
| Kettel type: | Semi-automatic |
| Kettle volume: | 50 l |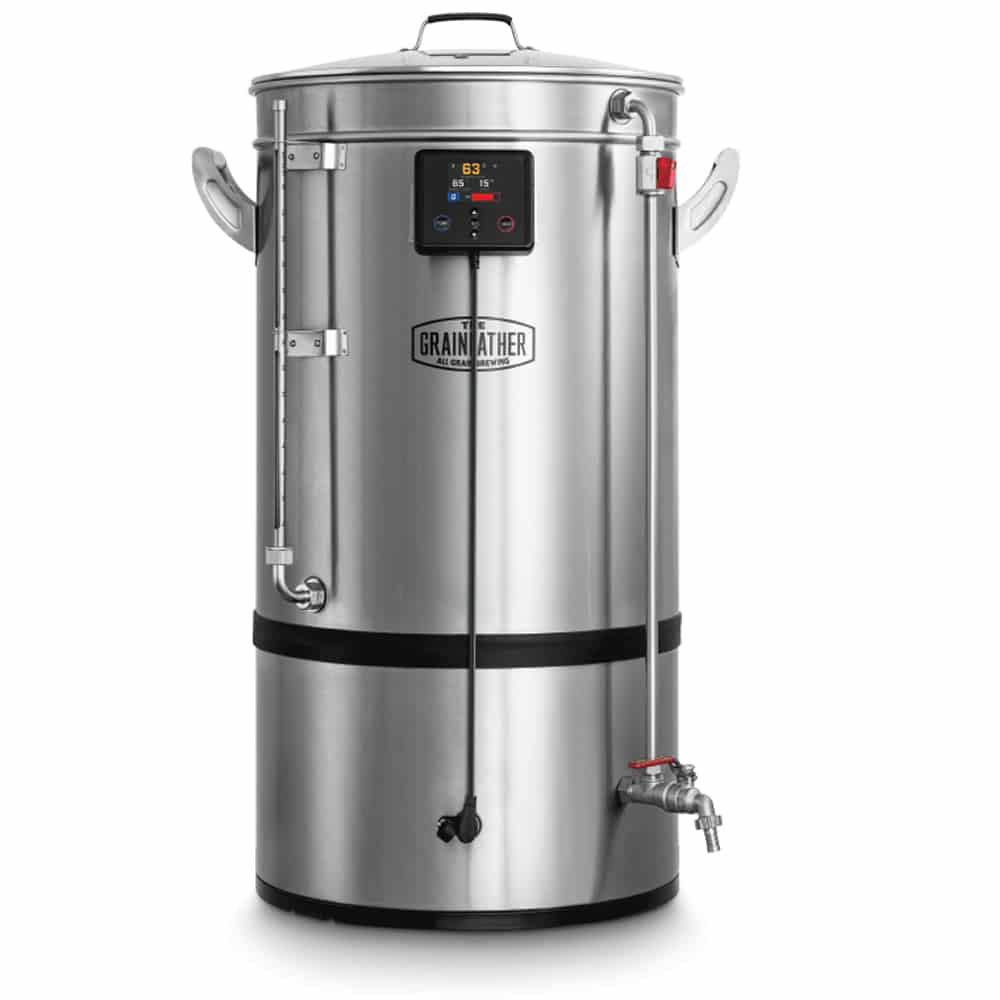 Grainfather G70 Brew kettle
The Grainfather G70: bigger and even better! You need more capacity than the Grainfather Connect? Us the all new Grainfather G70! Mashing, sparging, boiling and chilling in one device, Grainfather quality with app integration and smart brewing technology. Ideal for consistent and reliable brewing.Features:capacity 70 litre (for 65litre recipes, minimum recipe size 40 litres)smart control with built-in wireless connectivity and mobile app integration for step-by-step remote controlled brewingaccess to brewing tools, recipes and calculatorsmax. grain bill: 17 kgconical base for maximum brewhouse efficiencyPID heating control: large conical heating element for efficient heatingCIP capability, including cleaning filterlarge counterflow wort chiller, including more powerful pumprolled edge mash plates: no silicone sealslarge dual-stage hop filter: hopping rate of up to 1.5 kgintegrated sight glass for easy volume readings; replace with the sight glass cleaning barb to easily recirculate a cleaning solutionmash recirculation hose and barb: easy to install and remove for efficient mashing3 year warrantyTechnical data: EU model.body: stainless steel 304 220-240 V, 3300 W (heating element 3150 W)Weight machine : 36,5 kgSize machine: 83 cm x 53 cmMash Tun Dead Space Volume: 6,8LBoil-Off rate: 4L / hour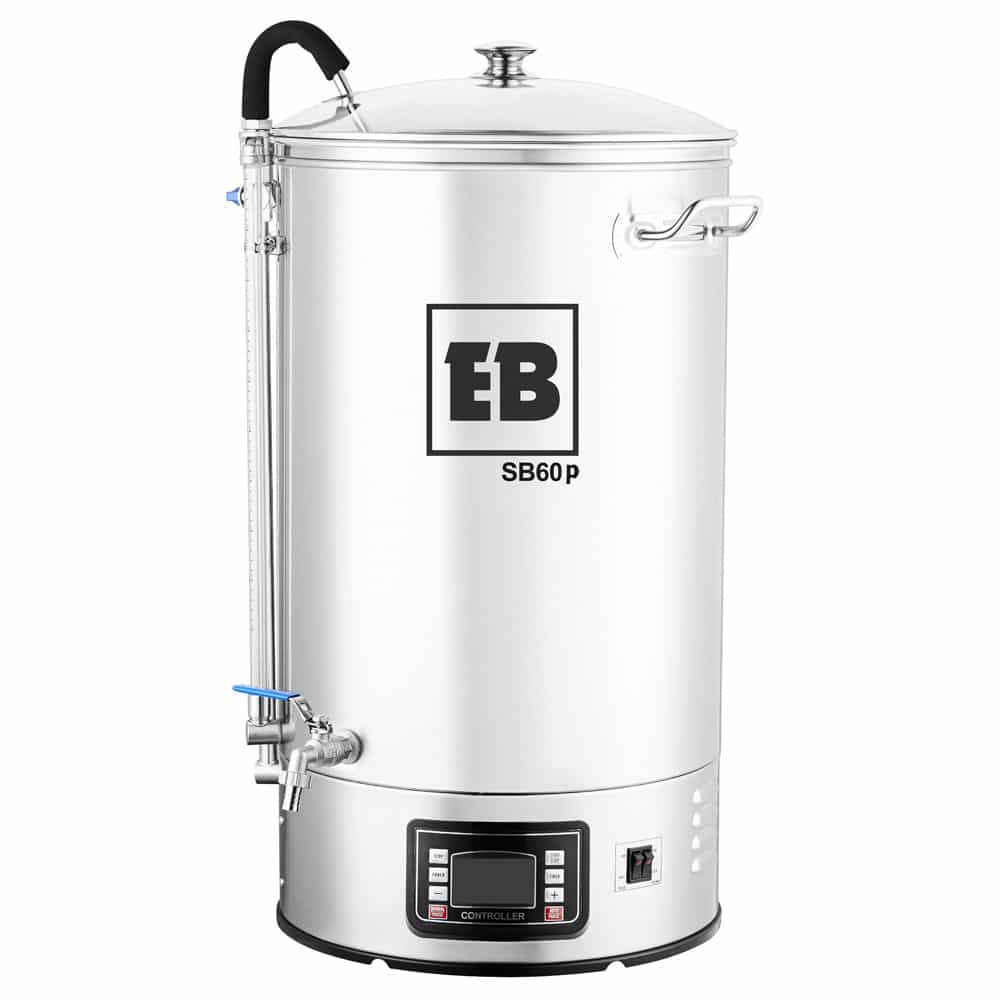 EasyBrew SB60P all-in-one brewing system + wort chiller
New! Easybrew SB60p automatic brewing system. Specifications: Capacity from brewing kettle 60 liters (65 litre max.). Separately mounted sight glass (works also when pumping)304 stainless steel malt pipe Nine programmable (mash) steps Reliable built-in magnetic pump Adjustable alarm / reminder function Stainless steel malt pipe, top and bottom filters With circulating tube, tap and camlock couplings Adjustable temperature (0.5 ºC steps) Handy tempered glass lid to control the brewing process Adjustable power 3000 watts Dutch and English manual. 3 years warranty The Easybrew SB60p is an all-in-one brewing system and we include a high capacity stainless steel wort cooler. To connect your wort cooler, we recommend using a 9 x 13 mm diameter PVC hose. By heating you can use a standard Gardena coupling.