Arsegan PURO SAN ® 100 ml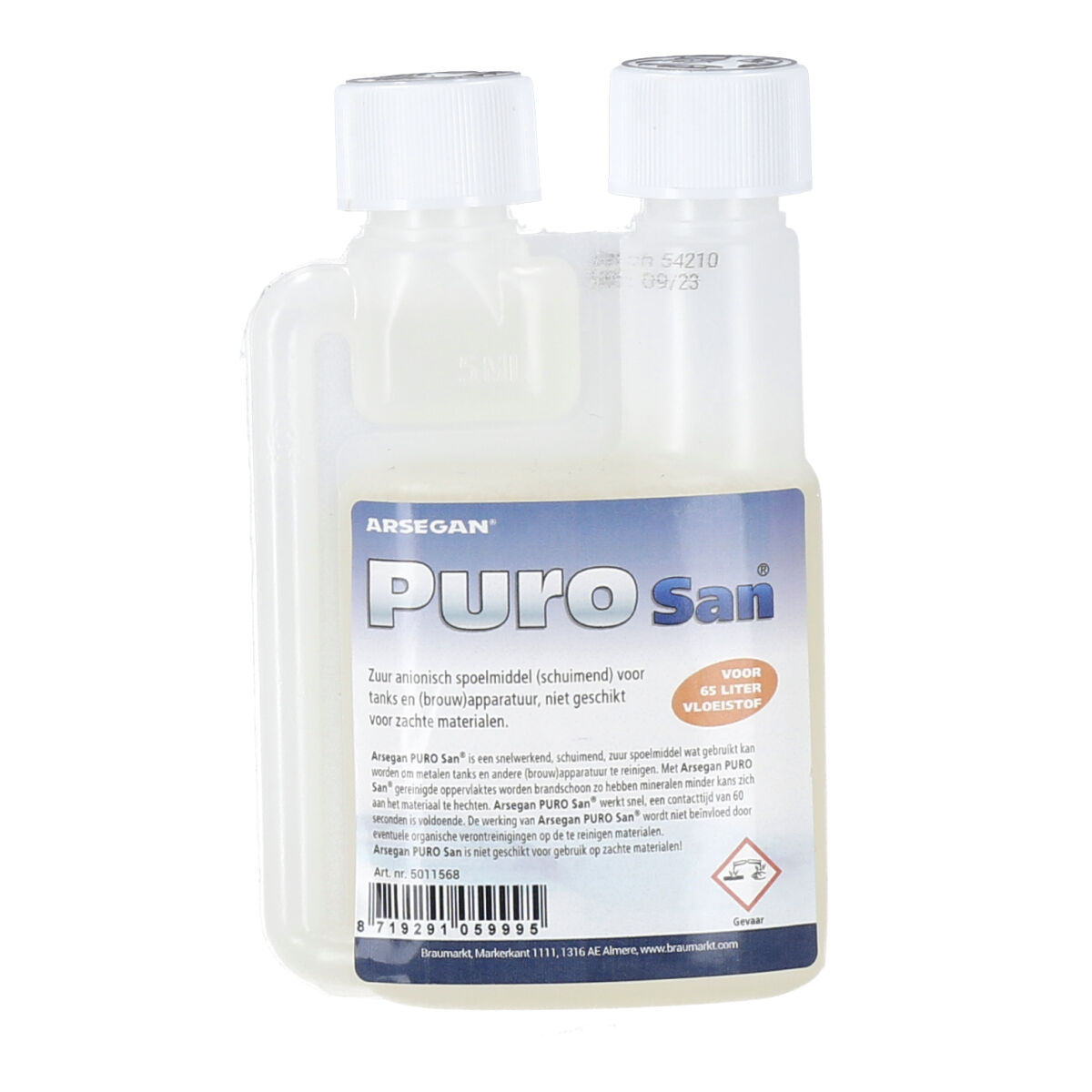 Product information "Arsegan PURO SAN ® 100 ml"
Arsegan Puro San® is a strong foaming, acidic anionic final rinse for use in the food and beverage industry.
Characteristics:
Cleans tanks and equipment and avoids the build-up and deposit of minerals.
Not influenced by organic pollution.
Required contact time only 60 seconds.
Not suitable for soft metals and CIP systems.
Dosage: 15 to 25 ml per 10 liters of water.
Contents of bottle 100 ml (sufficient for approximately 65 liters of detergent)
Dutch operating manual.
Instructions for use and precautions:
Cover all food products thoroughly or remove them from the environment.
Use as a final rinse.
Before use, remove any debris or dirt by rinsing or sanding the surface and soaking if necessary.
Then wash or rinse all parts thoroughly with a good cleaning agent and then again with clean drinking water.
For every 10 liters of solution, use 15 to 25 ml of Arsegan Puro San®, mix well with clean water.
Apply the solution with a cloth, sponge or spray bottle (15-20 cm height), or soak the surface in the liquid.
The surface must remain wet for at least 1 minute, then air-dry,
Keep the packaging closed carefully and keep it in a well-ventilated place after use.
Keep well sealed and always out of reach of children.
Ingredients: phosphoric acid 50%, dodecyl-benzene sulfonic acid 5-15%
Precautions:
Arsegan Puro San® DO NOT MIX with chlorine-based cleaning agents because chlorine gas may be produced from them.
Arsegan Puro San® affects undiluted metal with a contact time of more than 60 seconds.