Kreyer Chilly 45 M-LT - Low temp water chiller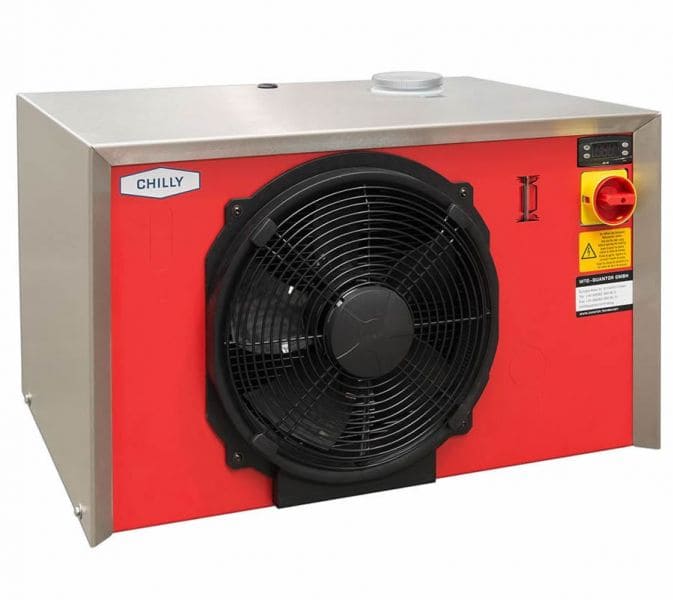 Product information "Kreyer Chilly 45 M-LT - Low temp water chiller"
Cooling capacity: 4,2 kW, Tank capacity: 26L
The Chilly-LT units are equipped with a hermetically closed motor compressor and a cooling water circuit containing a water tank (volume 20 to 26 liters, depending on the model) and centrifugal pump. This new generation of Chilly-LT units is equipped with an elegant and solid stainless steel housing
and with a highly efficient micro-channel condenser that ensures optimal heat-transfer. The Chilly-LT units are available in various sizes, with cooling capacities from 2,2 up to 4,2 kW. Units with varying voltage options are available on request. The Chilly-LT series is conceived for low water temperature ranges, from -10°C up to +25°C. They are perfectly adapted for low-cooling applications in beer (conditioning, Lagers),for wine stabilization and for cooling before carbonation. It is required to add Glycol (30%) to the cooling water by outlet temperatures below +7°C.
ATTENTION: PLEASE CONTACT CUSTOMER SUPPORT FOR CURRENT DELIVERY TIMES: Email: info@braumarkt.com / Tel: +31 (0)854839888
Large, fragile, heavy, or items that are too large for normal shipping are delivered by pallet or courier service. We will contact you to discuss shipment and shipping rates.