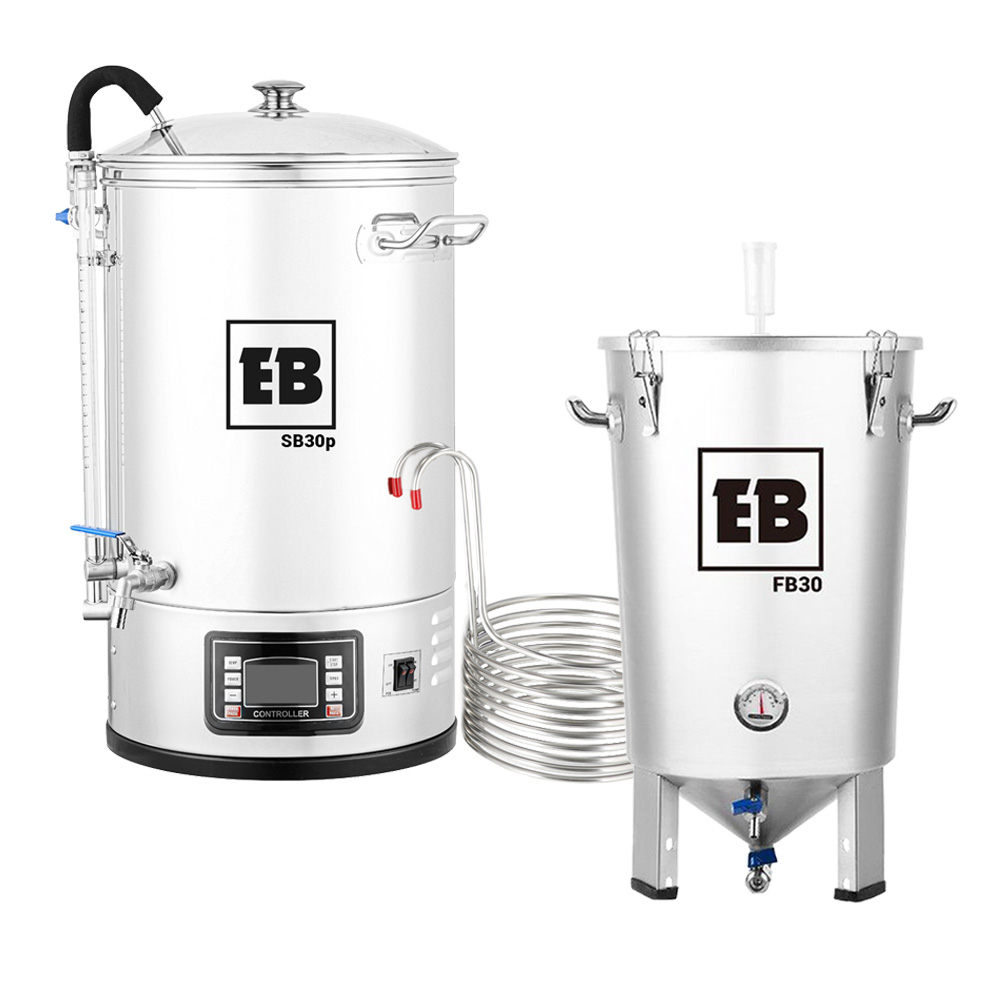 €479.00*
15%
€564.00*
(15.07% saved)
Available, delivery time 1-3 days
Available
Product information "Easybrew SB30p Duo Deal"
The Easybrew SB30p incl. wort chiller + Easybrew Fermenting Bucket 30L
The

Easybrew SB30p

is an all-in-one brewing system made of brushed stainless steel. With this unit you brew 20 to 30 liters of beer in no time. The brewing system features a tilted display with programmable controls. The filtering tun can be lifted in 2 steps and is equipped with a telescopic tube. This makes brewing smaller quantities even easier. The SB30p is also equipped with a separately mounted sight glass so that the wort level in the kettle is extra easy to read.



Specifications:
Capacity from brewing kettle 30 liters (304 stainless steel / Inox).
Separately mounted sight glass (works also when pumping)
304 stainless steel malt pipe
Nine programmable (mash) steps
Reliable built-in magnetic pump
Adjustable alarm / reminder function
Stainless steel malt pipe, top and bottom filters
With circulating tube, tap and camlock couplings
Adjustable temperature (0.5 ºC steps)
Handy tempered glass lid to control the brewing process
Adjustable power 2500 watts
Dutch and English manual.
3 years warranty
The Easybrew Fermenting Bucket 30L is a stainless steel conical fermenter, ideal for brewing up to 25 liters. The conical bottom concentrated the yeast depot so that you can easily get clear beer through the ball valve in the cone. Since the lid covers the entire width of the fermenter, just like a bucket, this fermenter is super convenient to clean. This is also very useful for kombucha, you can easily remove the SCOBY from the fermentation vessel.
Specifications:
volume: 30 l
stainless steel lid with silicone seal and cylindrical airlock
matte stainless steel finish (AISI 304)
equipped with conical bottom
3 feet
2 stainless steel handles
thermometer 0-40°C
3/8" ball valve in the cone
dump valve on conical bottom with 1/2" stainless steel valve
volume markings on the inside (liters / gal)
Dimensions: Height 58 cm, diameter 35cm.