Capsule Machine ® capsuling device capsules no 0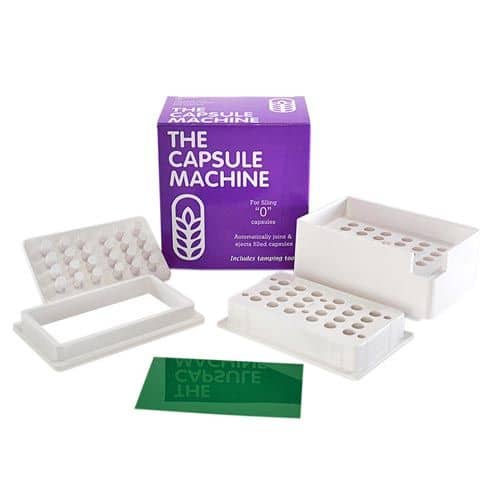 Available, delivery time 1-3 days
Available
Product information "Capsule Machine ® capsuling device capsules no 0"
Chewing and/or swallowing herbs or seeds is not always appetizing. Sometimes it is better to swallow the herbs or seeds in one piece. With the simple and effective Capsule Machine ® it is possible to create your own capsules and to fabricate 24 capsules (size "0" of 500 mg) within minutes.
Can't get any easier: Create a blend of herbs or seeds, fill the machine with capsules and divide the mixture over the capsules. Then push the top across and ... ready!
The use of the Capsule Machine ®:
Place the large section of the Capsule machine ® (the base) onto the attached holder and put the whole thing onto a flat dish or plate.
Take the capsules apart. Put the long section with the opening upwards into the base and the shorter section into the lid.
Divide approximately 1 ½ tablespoon of powder across the base and with the attached green card smooth out the holes so that they are filled. Press the powder using the tamper. Place the lid onto the base and take the Capsule Machine ® out of the holder. Place the device onto a flat surface and pull it all the way down equally.
Remove the lid. The filled capsules should be inside the lid by now. Push onto the top of the lid so the capsules drop out.
The Capsule Machine ® consists of:
The base, holder and lid, a green card for smoothing out and the tamper.
Attached to the Capsule Machine ® is a bag of desiccant for keeping the gelatine capsules moisture free. Take the dessicant bag from the plastic and put it into the same airtight container as the gelatin capsules.
The pouch desiccant is not meant for consumption!